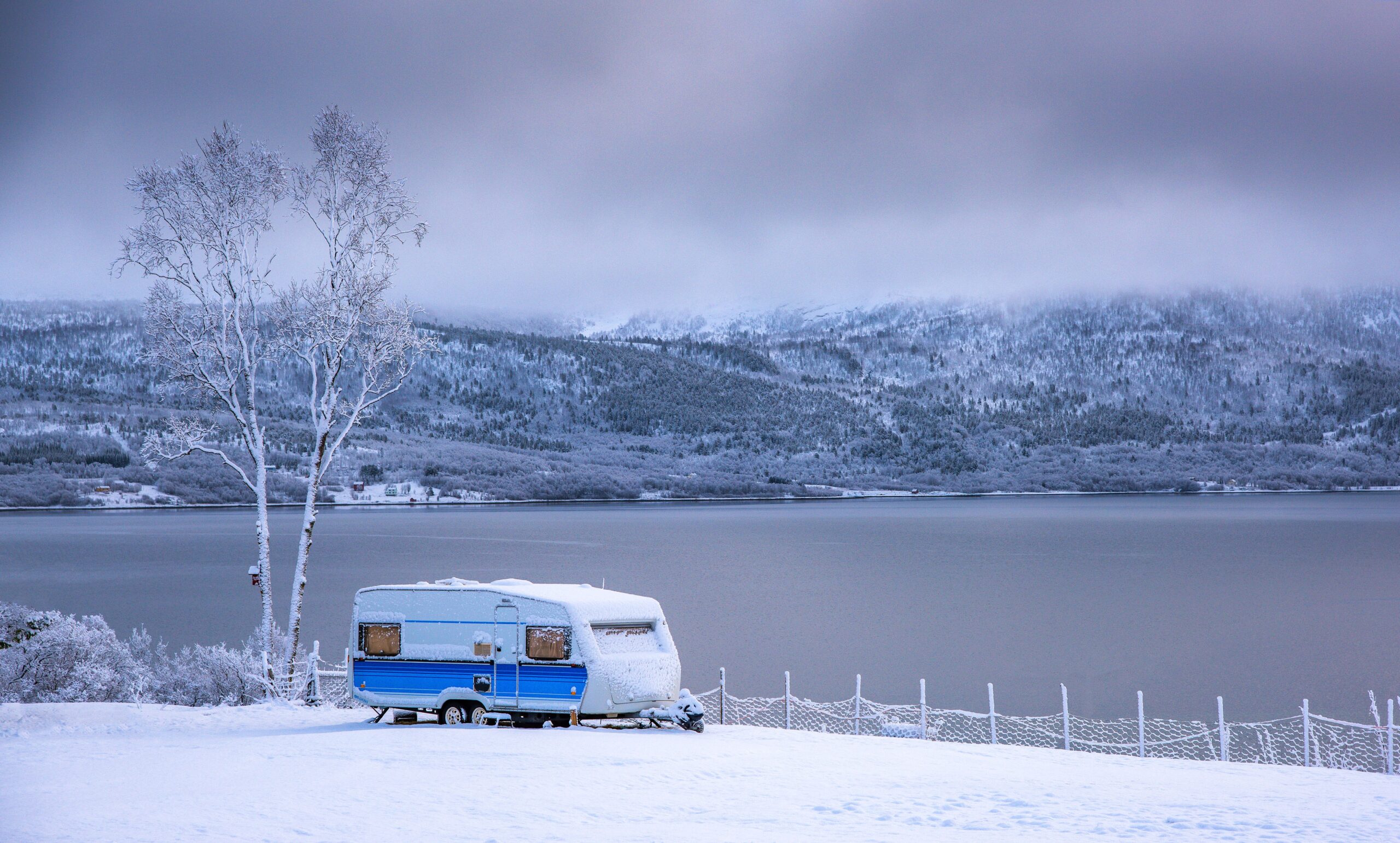 Winter RV Living can be wonderful in the Permian Basin. Our RV Park in Midland, TX hosts some beautiful winter days but, every now and then, we have subfreezing temperatures. Days when the cold comes screaming down from the north and, as the old-timers used to say, "it's windier than a fifty-pound sack of whistling lips!". Here are 8 recommendations for keeping your RV's interior warm and toasty as you prep for winter.
1. Check Seals and Insulation Around RV Doors and Windows
When it comes to keeping the warm air in and the winter cold out, we can't overstate the importance of insuring the seals are tight around RV windows and doors.
When a West Texas norther blows in at 3 a.m., there is nothing worse than hearing the "whistling lips" and feeling the rush of sub-freezing air coming through your master bedroom window or RV door. Add a little freezing rain and you have the recipe for a miserable night.
The time to check for a tight seal is now. Replace any worn or missing insulation. It can save you time, hassle, and money later.
2. Use Curtains/Blinds and Plastic Insulation on RV Windows
Even with windows sealed, heat loss occurs through glass. We recommend a both and approach: Plastic Insulation, Curtains and/or Blinds. RV Window Insulation is cheap and easy to install (you can find it from $8.95 on up).
Today's plastic insulation sheets allow you to keep the natural light you love which has the added benefit of allowing sunlight to warm your trailer during the day. At the same time, it helps keep the warmth from the sun and your heating methods of choice inside where it belongs on those long winter nights.
Another benefit of window insulation is it reduces moisture and frost build up inside your RV. The long term benefits of this include saving you additional money by reducing the build up of mildew and mold.
When you follow this up with a nice set of curtains you can really help reduce the heat transfer and loss. If you don't have curtains or blinds, winter can be a great reason to spend a little money on interior decorating. You can do this knowing it will save you money on heating costs in the months ahead.
3. Install an RV Vent Hatch Insulator
RV Hatch Vents are notorious for having a very little insulation value. RV hatch vent insulators keep the rising heat you pay for from escaping as it rises.
Excellent RV Vent Hatch Insulators can be purchase for as little as $13.34! They are easy to install. We believe that makes them well worth the investment.
4. Use a Skirt to Improve Winter RV Living
If you are staying in one site for a few weeks or more, then take the time to explore skirting your RV. We hear stories time and time again about an immediate benefit as warmth is kept in and the cold winds are kept at bay.
If you plan on a full season of winter RV living, a correctly installed skirt will pay for itself. If you are fully committed to the RV lifestyle and plan to winter in your RV for multiple seasons, the return on investment is substantial savings in heating costs year after year.
5. Consider Rugs
Rugs can provide more than an aesthetic benefit or comfort for your bare feet on those early mornings. Rugs can also help provide an extra barrier from the cold. While they might not provide 100% coverage. We have found, especially on those brutally cold mornings, every little bit of coverage makes a difference.
Find some rugs to match your curtains and watch out Martha Stewart!
6. Bake & Cook at Home
Speaking of Martha Stewart, heat up that homemade pizza and heat up your RV at the same time. Cook those eggs on your stove. Wintertime is the perfect excuse to explore a little in the kitchen. It also provides an extra heat source first thing in the morning and just after sundown in the evenings.
Here at Stanley RV, you can also curl up in a nice warm blanket to choose from any of our premium movie channels. Explore some new recipes, then throw in a little popcorn, kick back, and relax.
7. Use a Ceramic Space Heater
Free electricity means this is a great option at Stanley RV Park. A well placed ceramic heater can help keep your toes toasty and your sleeping quarter just right.
Most Ceramic Space Heaters today come with thermostats. Just make sure your space heater is not blowing directly on your RV's thermostat and your heating vents aren't blowing directly on the space heater. The two units can then work together to keep your room at the perfect temperature.
Always follow the manufacturers recommendation when using space heaters. Be sure to keep rugs, clothes, and bedding a very safe distance from the heater.
8. All of the Above for Winter RV Living
While all these steps might not be in the budget this month or even this year, taking a few of these steps will improve your winter RV living experience. If you start making changes this year and add improvements as you go, you will be more comfortable this winter. In addition, any steps to reduce heat transfer, will have the added benefit of keeping you cooler in the heat of summer as well.
We hope some of our tips will get you on your way to a warmer winter. To our guests here at Stanley RV Park we extend our thanks and, our friendly onsite staff are happy to offer our assistance with any questions you may have. We are glad you are here and hope your winter season is filled with warmth and happiness.
If you're not yet a guest at Stanley RV Park in Midland TX, we invite you to come by and stay with us. Call our onsite manager today at 432-550-7505 or visit our RV park reservations webpage for reservation information.