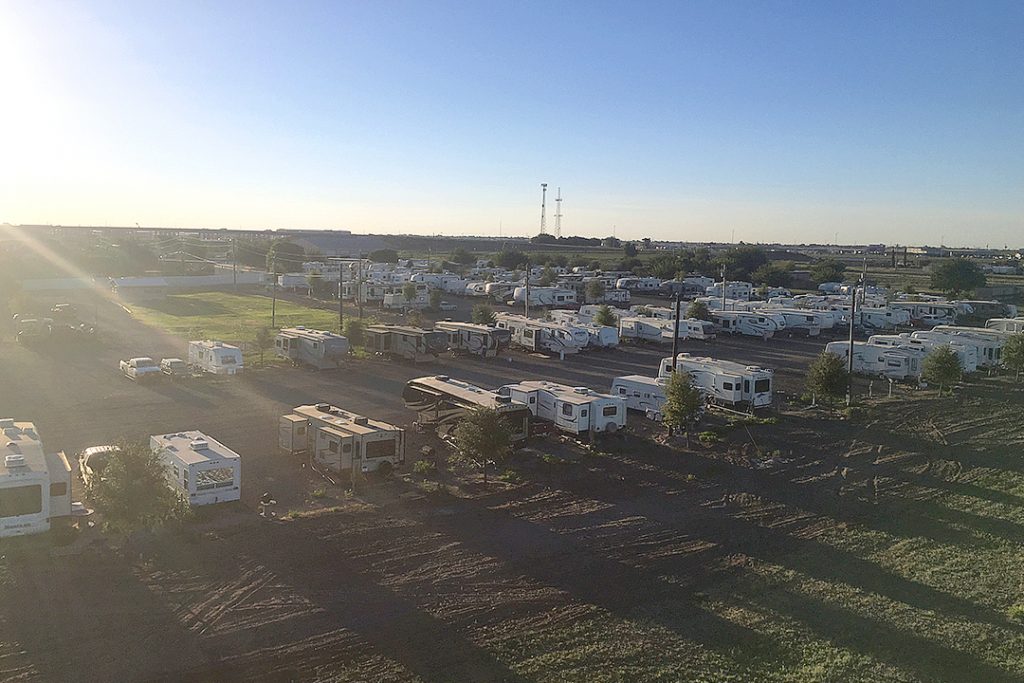 Recreational vehicle (RV) parks are where many campers choose to make their "home away from home" while they are traveling. How do you choose the best RV Park? Here is our ultimate guide to RV parks in Midland TX.
RV parks are campgrounds catering to people with recreational vehicles that can stay in allotted spaces known as "sites" or "campsites". They are also referred to as campgrounds, though a true campground also provides facilities for tent camping; many facilities calling themselves "RV parks" also offer tent camping or cabins with limited facilities. Travelers can spend the night, the week, the month, or the season. Heck, some people park their camper in one place and live at an RV park year round.
What Is The Difference Between an RV Park, And An RV Resort?
A RV Park offers sites for RV's usually with full hookups, they seem to cater more towards the RV or Trailer owners, almost at times even banning tents all together. They usually have activities both towards the kids and adults.
An RV Resort is more for the adult lifestyle. They usually have full hookups and most usually do not allow tents. They cater more towards the higher end, but we fit into this category as well in most of the resorts. The activities are almost always geared toward the adults.
Who stays at RV parks in Midland TX?
All types of people! RV parks in Midland TX are great for anyone who is looking for places to spend the night and utilize the amenities that the campground offers.
The friendliness of RVers, the sense of community with fellow RVers and the wealth of amenities that many parks offer give RV travelers a feeling of hometown on the road. No matter whether you're a family looking for an action-packed trip, a couple seeking relaxation and pampering or a more long-term place to hold up for a job or other venture, there's a great RV Park in Midland waiting – Stanley RV Park.
Here are a few different types of people you might encounter in Midland TX RV parks:
Families. RV parks, especially those with amenities like, game rooms, and playgrounds, are great for families. Parks that are family-focused, offer scheduled activities like hayrides, and craft classes.
Retired Travelers. The freedom of travel entices some retirees to move into an RV and explore Midland TX More. More and more RV parks are becoming increasingly popular in the 55+ age group and are designed to cater to retirees and create a quiet, neighborhood feel for those who are staying for a month, a season, or year round.
Dog People. You know these people. This is that couple who doesn't go anywhere without their dog, whether it's heading out for a rugged backcountry hike or a romantic dinner. You're most likely to encounter them in some scenic spot in Midland, which features lots and lots of off-leash dog parks.
But since their dog is so well socialized, constantly encountering many new experiences and people, they're almost always a complete joy to be around — making them a perfect (and eager!) pet-surrogate for those of us who had to leave our four-legged friends at home.
Vacationers and solo travelers. Groups and individuals that use their campers for vacations are unlikely to be set up for off-the-grid camping. Vacationers will often book commercial RV parks, state park campgrounds, or national park campgrounds while on a road trip.
Cooking Enthusiasts. This camper might be cooking over an open fire, but you can bet dinner's gonna be better than a plain old can of beans. We're talking three course meals whose dishes' names you can't pronounce, all miraculously produced over a camp stove.
Best of all, they're happy to share the wealth with their neighbors. Maybe you can provide the fire and wine while they provide the eats. (Trust us, you're getting the better end of that deal.)
Bookworms. Whether they're into fiction, history, or camping-specific stuff like birdwatching or identifying foliage, the Bookworm's favorite camping position is curled up by the fire ring in his camp chair or hammock, with his nose and imagination sunk thoroughly into his latest read. That doesn't mean he isn't a good neighbor, however — say hi (quietly, so as not to startle him), and you'll soon learn exactly how many stories of his own he has to tell.
Working Travelers. Long-term travelers who work remotely on the road may enjoy the convenience of ready access to campground amenities. Working on the road usually requires enough electricity to power devices like computers, and internet access via WiFi—both of which can be found at many commercial campgrounds.
What Amenities Can I Expect In An RV park?
RV parks in Midland TX range from a parking lot with electric hookups to a five-star RV resort. Most RV camping falls somewhere in the middle, with campgrounds offering dedicated RV sites with electricity, water, and sewer hookups for your camper.
Basic commercial campgrounds may have nothing more than an electrical outlet and a sea of pavement. That doesn't make the experience necessarily better or worse—that type of campground could be exactly what you need in the location you're visiting.
Which RV Park Has the Best Amenities?
One of the best RV Parks Midland TX is Stanley RV Park. This park is absolutely gorgeous and has amenities such as
Free DVR with HD, 200+ Channels!
Free Movie Channels – HBO, Starz, Showtime Movie Channel, Cinemax, Encore, etc.
Full Hook-ups, with 30/50/20 AMP service
Free Electricity
Free individually secured cable internet (30MBs) with modem and built-in wifi
Free Laundromat (8 washers 8 dryers)
Asphalt roads and trees.
On site management
Enjoy wide open spaces and friendly faces and let Stanley RV Park in Midland be your next hookup. Reserve your space today – call 432-550-7505.