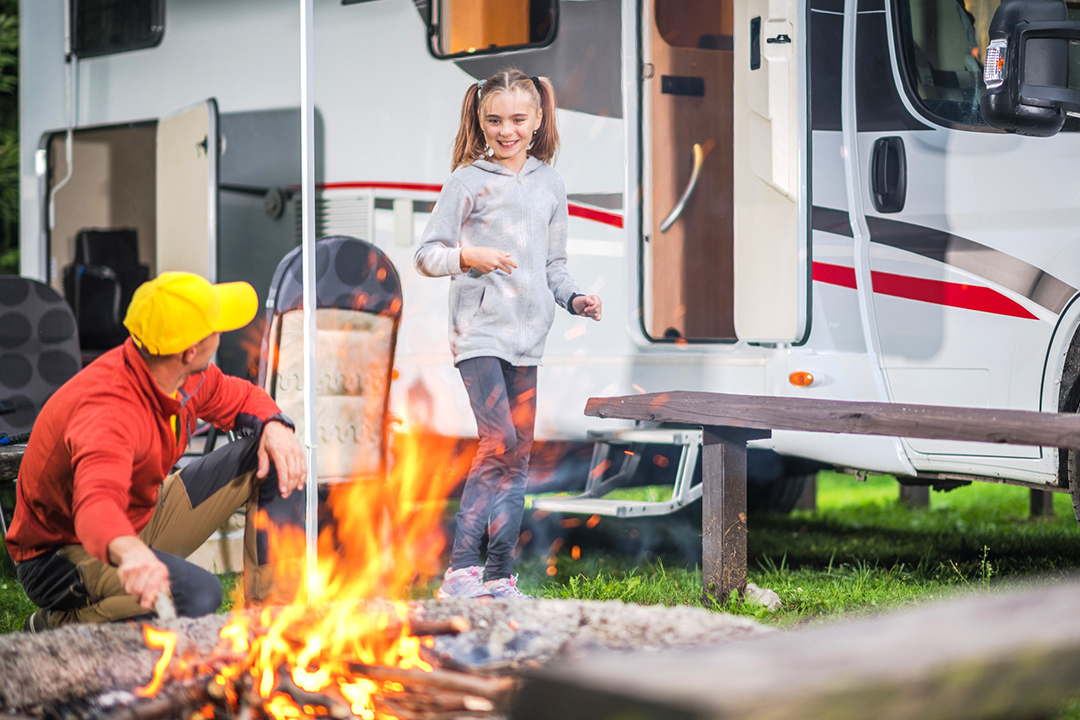 There's never been a better time to experience the great outdoors with RV trips than now. Due to the pandemic, a year of isolation has given everyone cabin fever. Even in the great outdoors, local parks or neighborhood roads can become congested with other people seeking a break from the house.
Social distancing continues to be vital in the current pandemic situation for everyone's well-being and safety. Nevertheless, as time has dragged on, there is a downside to living indoors. Many individuals, when in quarantine, experience restlessness and feelings of isolation. It is important to take advantage of fun, healthy ways to break up the monotony and enjoy something new. 
At Stanley RV we are working to ensure the RV lifestyle is a great way to have an adventure and stay safe! Taking a trip to our full hookup RV Park is a fun way to explore a new area and getaway without compromising the health of you or your loved ones. 
WHY RV Trips? 
Here are a few advantages RV Trips will provide while distancing yourself from others.
RV Trips Provide Built-in Social Distancing
During these challenging times, Stanley RV Park is a welcome escape. It is reassuring to know that the last person in your 'room' was you. An RV also provides reassurance regarding the air you breath. When you park your car, there are no long walks down a hallway or holding your breath on elevators in a hotel. Traveling by RV means you get to simply enjoy the fresh air and enter your home away from home.
RV Trips Offer New Views While You Exercise
As the COVID-19 pandemic forced gyms to close temporarily, many people have been reminded of the joys of fresh air while exercising. Whether it's running, biking, a light jog, or just a walk; the west Texas outdoors can be a great place to exercise.
Midland, TX boasts numerous parks and trails you can discover at Midland's Parks and Recreation online. Here you can discover parks, hike and bike trails, and so much more. For golf enthusiasts, there are numerous local courses. Be sure to check out the city of Midland's Hogan Golf Course. In addition, dog lovers need to look no further than Midland's Hogan's Dog Run. This park is 5 fenced acres designed especially with exercises for the four-legged members of your family!
RV Trips Unlock New Experiences in Nature
If you are looking to reconnect with nature, Stanley RV has you covered. Within a short driving distance, we have areas filled with wildlife, nature trails, and locations providing vistas of the unique landscape we call home.
The I-20 Wildlife Preserve is a great destination if you enjoy walking trails, observing birds, or learning about unique animals and plants. Bird lovers can find west Texas specialties like Pyrrhuloxia or Scaled Quail. You can see any number of birds including numerous raptors from your vantage point atop the preserves hawk tower. Those who enjoy photography will find the trails loaded with unique flora and fauna, along with numerous birds, insects, reptiles, and mammals.
For those wanting to make a day of it, Monahans Sandhills State Park is a fantastic option. One hour from Midland, this state park boasts a 'sea of sand'. You can get lost (don't really) in a place where the landscape is constantly shifting and changing as the wind shapes hills and valleys. It is a magical place where families can hike, toss frisbees, enjoy a picnic, or ride the waves of the sand dunes! All while maintaining as much distance as you need to feel safe.
RV Trips Limit Your Spending and Your Exposure
Here are just a few details you won't have to worry about with RV trips. First, no hotel bills or deposits. Second, you won't have to worry about airfare or the guy in the window seat who has been coughing since you took off. Finally, you can order curbside pickup at the grocery store and/or make your own meals. By doing this you can save time, money, and avoid exposure to random restaurants while traveling.
RV Trips and The RV Life
Unlike tour packages, getting an RV does not limit you. Here you're the boss. Whenever you want, you can go anywhere you want. Better yet, you can decide to spend a day relaxing in your living room on wheels. The RV life is one we love. You experience a destination for a day or for months, then load up and head to your next destination.
Bring Everything You Want and Need
We have all had the experience of trying to fit that one last overnight bag or snack bag under your feet in the floorboard of your car. Traveling in an RV means you have space and lots of space! You can bring most of the comforts of home in this "home on wheels."  Bring all the snacks, games, books, and equipment you want and still have room to stretch out your legs. 
Enjoy Your Own, Personal Restroom
Public restrooms have always been a place most seek to avoid. During this pandemic year, it can create a slightly elevated stress level as you enter one. One of the great things about RV travel is a private bathroom of your own. Who can put a price on a stress-free, personal restroom?
Start Enjoying RV Trips Today!
These are just a few of the reasons more and more people are choosing the RV lifestyle. It is an amazing life full of freedom and the open road. We also believe Midland is a great place to visit or call home. If you are looking for a great place to cure your cabin fever, give us a call. You can explore the Midland area in a few days or come and stay awhile.
If you're not yet a guest at Stanley RV Park in Midland TX, we invite you to come by and enjoy the wide open spaces and friendly faces. Call our onsite manager today at 432-550-7505  for information.